This mix tells a little more of a story than I intended or anticpated. You can insert the AU scenario of your choice. Frank and Gerard meet and fall for each other. They're nervous about it, but eventually get together. And then they start having problems and forget why they love each other for a while. But eventually they remember and realize that whatever happens, they've got each other and they do love each other and that counts for a hell of a lot.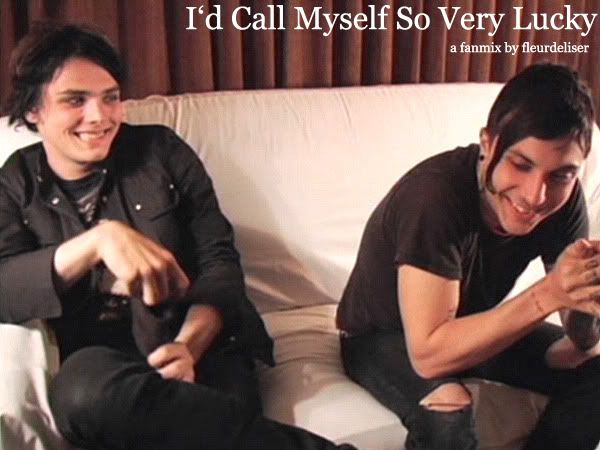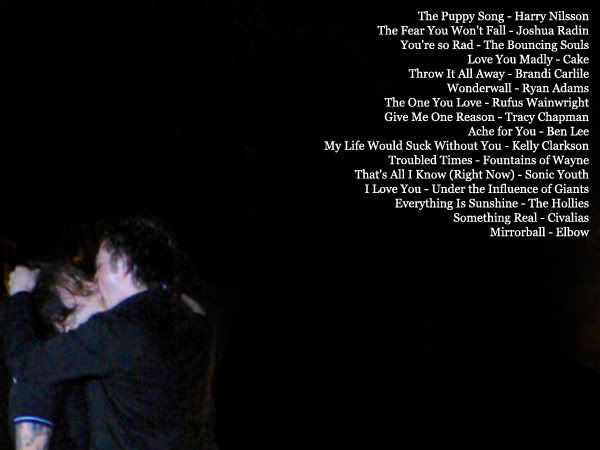 I'd Call Myself So Very Lucky
1. The Puppy Song - Harry Nilsson
If only I could have a friend
to stick with me until the end
and walk along beside the sea
share a bit of moon with me

2. The Fear You Won't Fall - Joshua Radin
It hasn't felt like this before
It hasn't felt like home before you
And I know it's easy to say but it's harder to feel
This way
And I miss you more than I should
Than I thought I could
Can't get my mind off of you
3. You're so Rad - The Bouncing Souls
You're so rad
you really spark my nads
some say you're good but i know you're bad
if you go i'll be sad
4. Love You Madly - Cake
I don't want to think about it
I don't want to talk about it
When I kiss your lips
I want to sink down to the bottom
Of the sea
5. Throw It All Away - Brandi Carlile
When you're near me I have no fear
When I'm untrue you see right through me
You know me as deep as the sea goes
Calm my head whenever the storm blows
6. Wonderwall - Ryan Adams
Backbeat the word is on the street
That the fire in your heart is out
I'm sure you've heard it all before
But you never really had a doubt
I don't believe that anybody feels
The way I do about you now
7. The One You Love - Rufus Wainwright
Let's fuck this awful art party
Want you to make love to me and only to me in the dark
I'm only the one you love
Am I only the one you love?
8. Give Me One Reason - Tracy Chapman
Give me one reason to stay here - and I'll turn right back around
Give me one reason to stay here - and I'll turn right back around
Said I don't want leave you lonely
You got to make me change my mind
9. Ache for You - Ben Lee
There's no rhyme
And there's no reason
You're the secret in the back of my skull
There's no logic
So please believe me
Our love's confusing
But it never gets dull
10. My Life Would Suck Without You - Kelly Clarkson
Maybe I was stupid for telling you goodbye
Maybe I was wrong for tryin' to pick a fight
I know that I've got issues
But you're pretty messed up too
Either way, I found out I'm nothing without you
11. Troubled Times - Fountains of Wayne
Maybe one day soon it will all come out
How you dream about each other sometimes
With the memory of how you once gave up
But you made it through the troubled times
12. That's All I Know (Right Now) - Sonic Youth
But it's all right i don't care at all
`cause i'm yours and you're mine and that's
And that's all i know right now
That's all
That's all
I know, right now
13. I Love You - Under the Influence of Giants
It's a shame that you're gone losing sleep
When I keep rolling to your song
Wonder how I appear in your head
When I keep rolling, rolling on
14. Everything Is Sunshine - The Hollies
I keep on thinking about the things that make me cry
I keep on thinking about the things that make me die
but everything is sunshine when you hold my hand
15. Something Real - Civalias
We can run and break the stillness
Can you feel it?
Can you feel it?
Because we survive on something real
16. Mirrorball - Elbow
We took the town to town last night.
We kissed like we invented it!
And now I know what every step is for:
to lead me to your door.